Did you know ?
After more than 15 years of collaboration with Toni AUTIERI, CEO of TITANIUM SWISS GROUP, Julien GUERBOIS BONY joins our teams as Director at PROGENIE and more recently Chief Operations Officer at TRISAX.
This double appointment gives the two entities of the Group a new lease of life with good prospects for the future and development.
Today we give you the opportunity to meet Julien GUERBOIS BONY with our interview.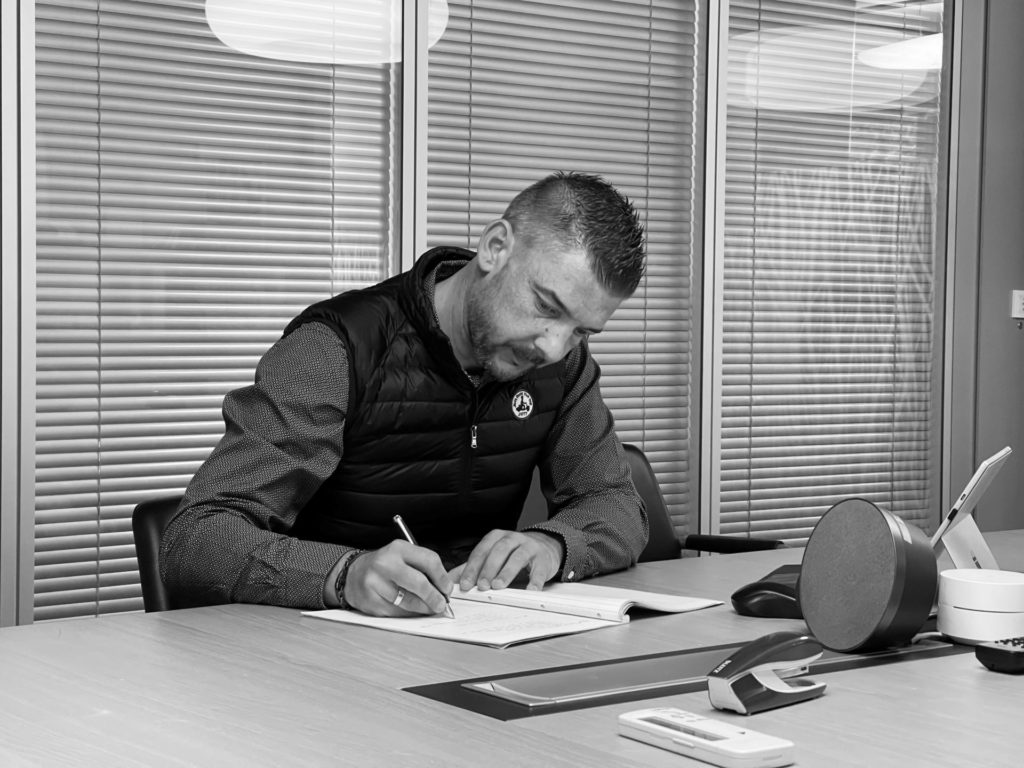 What was your professional career in the construction industry ?
Julien GUERBOIS BONY
"Having started in a design office in an electrical installation company, I was able to discover the different types of construction, housing, tertiary and industrial.
I then continued as a project manager in an electrical installation company in Geneva and had the opportunity to carry out large-scale projects but also the realization of turnkey clients (all trades combined) and maintenance contract management on specific sites (pharmaceutical and research).
This experience was undoubtedly the most rewarding technically speaking because it allowed me to acquire skills in all trades related to construction.
I then joined forces to create my electrical installation company in France. The challenge of starting from scratch and having everything to build was very motivating. The realization of projects in all types of construction and turnkey as well as maintenance contracts have made it possible to develop and perpetuate this activity.
Subsequently, I joined an CVCSE engineering office as head of the pole, allowing me to acquire skills in the creation and study of projects. Start from a blank sheet with our client and offer them solutions that will allow them to achieve these objectives.
Then, Mr AUTIERI,
with whom I had the opportunity to carry out several turnkey projects, offered me to join the TITANIUM SWISS GROUP, in order to be able to bring my experience to the development of two companies : PROGENIE and TRISAX."
What are your objectives for your success within PROGENIE ?
J.G.B
"By relying on all the work already done and allowing PROGENIE to continue its development in the fields of construction audits, CVCSE studies and architectural and technical maintenance.
Supporting our clients in the management, maintenance and energetic optimization of their real estate portfolio by offering innovative and lasting solutions is an important development axis."
How do you approach your assumption of a position at TRISAX ?
J.G.B
"It's a very exciting and motivating challenge !
TRISAX is a flagship company in its field of activity and being able to participate in its development is a great personal opportunity. TRISAX has been carrying out projects of all sizes for years and takes particular care to provide responsiveness, quality and above all end customer satisfaction.
Bringing its know-how within this entity to continue its development while guaranteeing the success of current projects is a motivating challenge."
What do you think are the qualities for good team management ?
J.G.B
"Without the installation teams and without the study and project management teams, there is no manager !
It is important for me to understand that success depends on teamwork where everyone has their role to play. We must therefore listen, know how to position people where they will perform best in order to enhance their skills.
Communication is also an essential element, exchanging with the teams to find the right solutions and the right methods to guarantee the satisfaction of our customers is extremely important."
What is your vision for the future within these two companies ?
J.G.B
"A very optimistic vision, in fact the two companies today have extremely interesting ongoing or future projects which allow me to see the future with serenity.
We can also count on our loyal customers who have trusted us for years which allows us to be confident over the coming years.
The goal being to continue to satisfy all of our customers and partners and I am convinced that these two companies have all the employees to enable us to take a new step forward in the near future."
©Communication service
Published on May,18 2021