DID YOU KNOW ?
TRISAX has had its own carpentry service for 5 years.
Our department is made up of cabinetmakers, designers in interior design, creation, customisation and above all enthusiasts.
The aim of Trisax Joinery is to find the right balance between aesthetics and functionality, creative ideas and the rules of the craft.
The carpentry service provides real added value and a complete and personalised design service offering modernity and creativity to your projects.
Today we give you the opportunity to meet Julien DELFOLIE and Aurélien PODER through our interview article.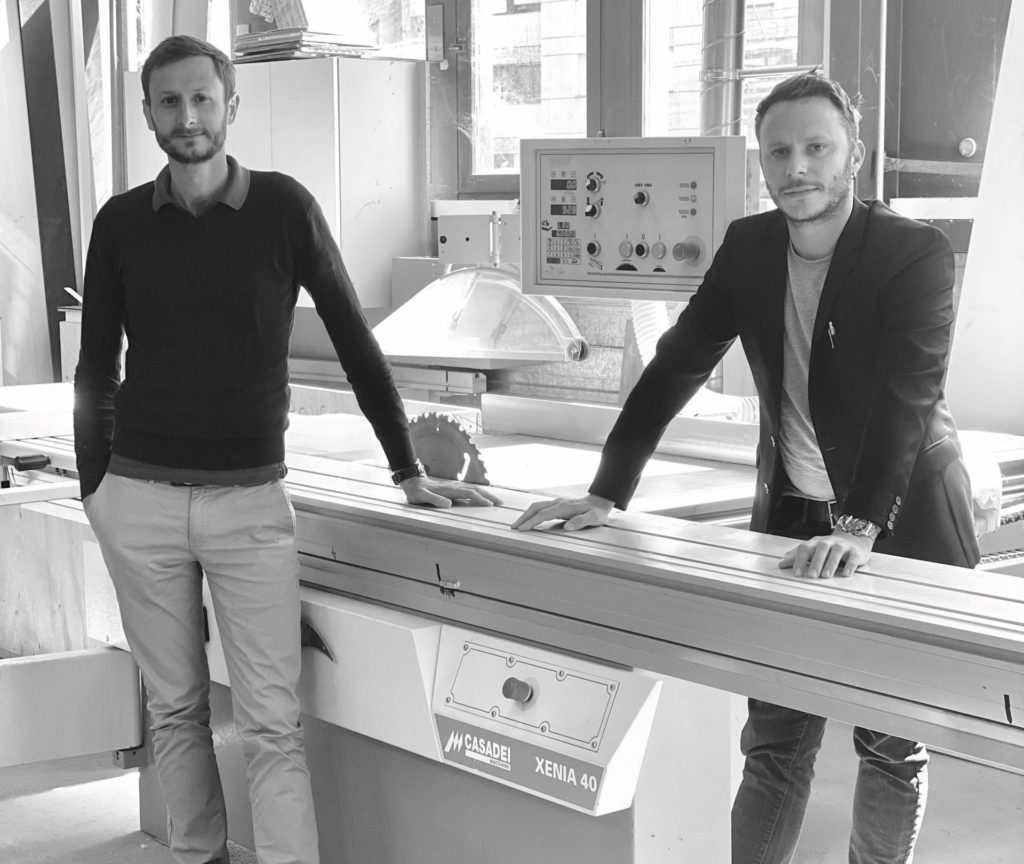 Can you tell us about your background ?
Julien DELFOLIE
"After a scientific baccalaureate, I "reconverted" thanks to the discovery of the cabinetmaker's trade. I therefore took my first steps with a CAP in cabinet making, alternating between Lyon and Annecy with a craftsman to learn the traditional manufacture of stylish and regional furniture. I then became a cabinetmaker at Technics d'agencement, specialising in luxury boutiques, particularly for Hermès, giving me the precision, care and workmanship of veneering as a whole.
The desire to be able to design and draw my own furniture led me to follow a training course in CAD (Computer Aided Design) on Autocad and solidworks, thus opening the doors of the design office within the same company as a draughtsman, then quickly as a project manager. This was the starting point of a long adventure in different companies, following very beautiful projects in France and abroad for big luxury brands, and watchmaking.
At the beginning of 2009, it was time for me to create the 1.618 workshop, a craftsman specialised in cabinet making and custom-made fittings, mainly for private individuals. 8 years of great wealth.
It was at the beginning of 2017, and after several meetings with Mr Toni AUTIERI, that I decided to try the Trisax adventure in order to continue to consolidate and perfect the project of a joinery workshop within the company which would become the 4th Axis of Trisax know-how. This involved recruiting a manufacturing team and an installation team to meet all the carpentry requirements of customers who had already been loyal to Trisax for a long time for mixed partition, false floor and false ceiling projects.
Trisax can then offer turnkey projects with all the finishing skills in-house."
Aurélien PODER
"I started with a CAP (vocational training certificate) in cabinetmaking and went on to a DMA (diploma in arts and crafts), including an apprenticeship in ornamental carving, woodturning and a MANAA (advanced training course in applied arts).
Following my training, I obtained the position of manufacturer at the 1.618 workshop in Annecy for 2 years and then I joined the Trisax company during the creation of the joinery.
After 2 years, I moved to the office as a draughtsman and then as a junior project manager until today."
What is your area of expertise ?
J.D
"1 -In direct contact with the client, project owner, works manager and/or architect to understand and implement their requirements. From project costing, technical design, validation plans, monitoring of manufacturing in the workshop, to the acceptance of the site. As well as managing subcontractors in the fields of locksmithing and saddlery.
2 – To act as a relay with the Trisax project manager in charge of the mixed project, and to take charge of the carpentry work package, integrating it into the overall project."
A.P
"Carpentry and, more specifically, fittings."
What is your role within TRISAX ?
J.D
"I am project manager and responsible for the carpentry division for the operational part."
A.P
"My role consists of starting from the costing phase to the completion of the project. To manage the project from A to Z. This allows us to follow our work through to completion. This involves calculation, planning, technical resolution, ordering materials, launching and monitoring production until installation."
What are your requirements in terms of customer response?
J.D
"To be responsive to the client by trying to meet their expectations in terms of design, technical responses, deadlines and budgets. To always be concerned about a job well done, a guarantee of quality and customer loyalty."
A.P
"I make it a point of honour to ensure that quality is the guiding principle in the manufacture and installation. Quality is a guarantee for the next days work with new and/or loyal customers."
What has been your greatest achievement ?
J.D
"Creation and fitting out of the Air France VIP lounge at Geneva airport."
A.P
"This was the British Airways VIP lounge at Geneva airport. This project allowed us to showcase our skills and know-how through complex creations and an aesthetic rendering of a certain style in terms of layout."
©Service communication
Publié le 20 avril 2021